FUEL TV presents Mission: Caribbean
TV-14
HD
Wakeboarding
21 mins
2010





0 | ratings
In this one of a kind special, we join together 3 of the worlds best wakeboarders, with 4 of the world's best surfers, on an 8 day surf and wake exploration of the Caribbean.
Alex Gray, Parks Bonifay, Ben Bourgeois
Region Blocked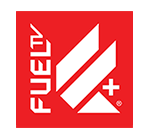 We're on our Way!
FUEL TV+ will be available in your region soon.
(O1-Other Country).
Where to watch FUEL TV